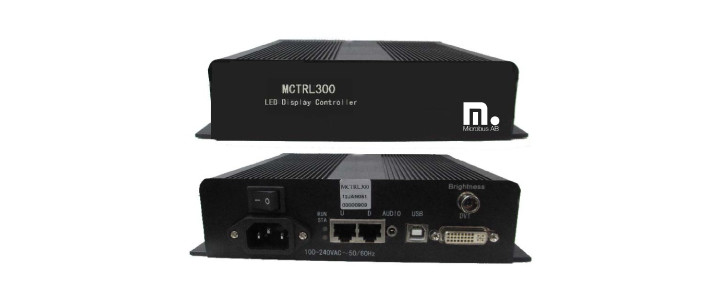 NovaStar control system

Every NovaStar product is designed and built with six main principles in mind: innovation, stability, security, power, ease of use, and customer service. This is why NovaStar products are used all around the world, and trusted for huge events such as Olympic Games, the World Cup, and WWE. From the smallest event to the world's greatest stages, NovaStar's LED display control systems set the industry standard for excellence.
Microbus AB is a Swedish company that has the sales rights for NovaStar with a warehouse located in Sweden / Europe. We create display solutions for all kinds of use cases using NovaStar products. If you have any questions or inquiries regarding NovaStar you can get in touch with us at info@MicrobusGroup.se or call us at +46 40-53 96 80.
Kategori Accessories
Benämning
Artikelnummer
Kategori

Benämning:

CVT10 Pro-S

Artikelnummer:

78-200-23

Kategori:

Accessories

CVT10 Pro-S

Fiber converter The CVT10 Pro fiber converter offers a way to convert optical signals to electrical signals, or electrical signals to optical signals, for connecting the sending card to the LED screen. ...

Läs mer

Benämning:

CVT10 Pro-M

Artikelnummer:

78-200-24

Kategori:

Accessories

CVT10 Pro-M

Fiber converter The CVT10 Pro fiber converter offers a way to convert optical signals to electrical signals, or electrical signals to optical signals, for connecting the sending card to the LED screen. ...

Läs mer

Benämning:

CVT10-M

Artikelnummer:

78-200-22

Kategori:

Accessories

Benämning:

CVT10-S

Artikelnummer:

78-200-21

Kategori:

Accessories

Benämning:

Light Sensor NS060-30A

Artikelnummer:

78-420-11

Kategori:

Accessories

Light Sensor NS060-30A

Cable length: 30 meters The NovaStar NS060 light sensor allows you to monitor and automatically control the brightness of your LED display. In conjunction with the corresponding hardware (see Features), ...

Läs mer

Benämning:

Holder Sensor NS060-5A

Artikelnummer:

78-427-04

Kategori:

Accessories

Holder Sensor NS060-5A

Holder specifically designed to fix a light sensor NS060-5A for use with an LED display. External dimensions: 140x50mm + 100x50mm, 90 degree angle. Mounting hole for sensor 30mm

Läs mer

Benämning:

SIM7100E PCIE

Artikelnummer:

78-420-14

Kategori:

Accessories

SIM7100E PCIE

Novastar SIM7100E PCIE 4G Module Details Electrical specifications Output power GSM900: 2W DCS1800: 1W Supply voltage range 3.0V~ 4.3V, Typ: 3.8V* Operation Consumption Power off: 7uA PSM: 9uA Sleep: 1mA ...

Läs mer

Benämning:

Unit shipping price

Artikelnummer:

78-000-00

Kategori:

Accessories

Benämning:

Light Sensor NS060-5A

Artikelnummer:

78-420-15

Kategori:

Accessories

Light Sensor NS060-5A

Cable length: 5 meters The NovaStar NS060 light sensor allows you to monitor and automatically control the brightness of your LED display. In conjunction with the corresponding hardware (see Features), the ...

Läs mer

Benämning:

Holder for light sensor

Artikelnummer:

78-427-01

Kategori:

Accessories

Holder for light sensor

Expired product Holder specifically designed to fix a light sensor (older model) for use with an LED display. Document  Hållare till Ljussensor

Läs mer

Benämning:

MFN300

Artikelnummer:

78-400-11

Kategori:

Accessories

Multifunction Card MFN300

Nova M3 MFN300 is a multifunction card with a variety of auxiliary functions. It has the following features: RS232 serial or Gigabit Ethernet port communication Ethernet port connection between two ...

Läs mer

Benämning:

MON300

Artikelnummer:

78-400-30

Kategori:

Accessories

Monitor Card MON300

Nova MON300 is a monitoring card designed specifically for engineering projects and projects with high requirements of safety. It has the following features: Used together with receiving card MRV320 ...

Läs mer

Benämning:

Temperature Sensor MTH310

Artikelnummer:

78-421-31

Kategori:

Accessories

Temperature Sensor MTH310

The NovaStar MTH310 is a waterproof temperature sensor for monitoring the ambient temperature on LED display. You can connect the MTH310 to the MFN300 multifunction card or MFN300-B multifunction box. ...

Läs mer

Benämning:

CVT320

Artikelnummer:

78-200-11

Kategori:

Accessories

Benämning:

CVT310

Artikelnummer:

78-200-10

Kategori:

Accessories
Kategori All-in-one Controller
Benämning
Artikelnummer
Kategori

Benämning:

VX400

Artikelnummer:

78-102-11

Kategori:

All-in-one Controller

Benämning:

VX600

Artikelnummer:

78-102-21

Kategori:

All-in-one Controller

Benämning:

VX1000

Artikelnummer:

78-102-42

Kategori:

All-in-one Controller

Benämning:

VX6S

Artikelnummer:

78-100-11

Kategori:

All-in-one Controller

Benämning:

VX4S

Artikelnummer:

78-100-12

Kategori:

All-in-one Controller

Benämning:

NovaPro HD

Artikelnummer:

78-100-10

Kategori:

All-in-one Controller

NovaPro HD

Product Description: The NovaPro HD is a professional LED display controller. Besides the function of display control, it also features in powerful front end processing, so an external scalar is no longer ...

Läs mer
Kategori COEX
Benämning
Artikelnummer
Kategori

Benämning:

MX6000 Pro

Artikelnummer:

78-500-61

Kategori:

COEX

MX6000 Pro

Product Description The MX6000 Pro is a large professional 8K LED display controller of the brand new COEX control system series developed by Xi'an NovaStar Tech Co., Ltd. (hereinafter referred to as ...

Läs mer

Benämning:

CX40 Pro

Artikelnummer:

78-500-43

Kategori:

COEX

Benämning:

MX30

Artikelnummer:

78-500-31

Kategori:

COEX

Benämning:

MX20

Artikelnummer:

78-500-22

Kategori:

COEX

Benämning:

MX40 Pro

Artikelnummer:

78-500-42

Kategori:

COEX

Benämning:

KU20

Artikelnummer:

78-500-21

Kategori:

COEX

Benämning:

CX80 Pro

Artikelnummer:

78-500-83

Kategori:

COEX
Kategori M3 - standard line
Benämning
Artikelnummer
Kategori

Benämning:

MCTRL700

Artikelnummer:

78-100-20

Kategori:

M3 - standard line

Benämning:

MCTRL500

Artikelnummer:

78-100-14

Kategori:

M3 - standard line

Benämning:

10G SFP Module S

Artikelnummer:

78-420-13

Kategori:

M3 - standard line

10G SFP Module S

Product Description: Compact 10Gb/s optical transceiver module for serial optical communication applications. It can convert serial electrical data streams to optical output signal, and optical input ...

Läs mer

Benämning:

MCTRL660 PRO

Artikelnummer:

78-100-17

Kategori:

M3 - standard line

MCTRL660 PRO

Product Description: The NovaStar MCTRL660 PRO is a professional independent controller. A single MCTRL660 PRO has a loading capacity of up to 1920×1200@60Hz. It supports custom resolutions which meets ...

Läs mer

Benämning:

MSD300

Artikelnummer:

78-400-10

Kategori:

M3 - standard line

Benämning:

MCTRL300

Artikelnummer:

78-100-13

Kategori:

M3 - standard line

Benämning:

MCTRL600

Artikelnummer:

78-100-15

Kategori:

M3 - standard line

Benämning:

MCTRL660

Artikelnummer:

78-100-16

Kategori:

M3 - standard line
Kategori Phobos
Benämning
Artikelnummer
Kategori

Benämning:

CVT4K-M

Artikelnummer:

78-200-13

Kategori:

Phobos

Benämning:

CVT4K-S

Artikelnummer:

78-200-12

Kategori:

Phobos

Benämning:

MCTRL4K

Artikelnummer:

78-100-18

Kategori:

Phobos

Benämning:

MCTRL R5

Artikelnummer:

78-100-19

Kategori:

Phobos

Benämning:

DIS-300

Artikelnummer:

78-202-30

Kategori:

Phobos

DIS-300 SPLITTER

DIS-300 SPLITTER – signal converter & splitter The NovaStar DIS-300 is designed for multi-screen applications or particularly large LED displays. The device has two inputs and eight outputs, ...

Läs mer
Kategori Receiving Card
Benämning
Artikelnummer
Kategori

Benämning:

MRV560

Artikelnummer:

78-402-56

Kategori:

Receiving Card

Benämning:

MRV470

Artikelnummer:

78-402-47

Kategori:

Receiving Card

Benämning:

MRV420

Artikelnummer:

78-402-42

Kategori:

Receiving Card

Benämning:

MRV410

Artikelnummer:

78-402-41

Kategori:

Receiving Card

Benämning:

MRV360

Artikelnummer:

78-402-36

Kategori:

Receiving Card

Benämning:

MRV330

Artikelnummer:

78-402-33

Kategori:

Receiving Card

Benämning:

MRV320

Artikelnummer:

78-402-32

Kategori:

Receiving Card

Benämning:

MRV300

Artikelnummer:

78-402-30

Kategori:

Receiving Card

Benämning:

MRV220

Artikelnummer:

78-402-22

Kategori:

Receiving Card

Benämning:

MRV210

Artikelnummer:

78-402-21

Kategori:

Receiving Card
Kategori Taurus series
Benämning
Artikelnummer
Kategori

Benämning:

TU15 Pro

Artikelnummer:

78-300-36

Kategori:

Taurus series

Benämning:

TU20 Pro

Artikelnummer:

78-300-41

Kategori:

Taurus series

Benämning:

TB30

Artikelnummer:

78-300-20

Kategori:

Taurus series

Benämning:

TB50

Artikelnummer:

78-300-25

Kategori:

Taurus series

Benämning:

TB60

Artikelnummer:

78-300-28

Kategori:

Taurus series

Benämning:

MBOX600 (7U4A2)

Artikelnummer:

78-420-17

Kategori:

Taurus series

MBOX600 (7U4A2)

MBOX600 (7U4A2) is a large loading capacity independent controller developed by NovaStar. It integrates a reliable industrial-grade PC with a sending card in a single unit, allowing for easy LED display ...

Läs mer

Benämning:

MBOX600 (3U4A2)

Artikelnummer:

78-420-16

Kategori:

Taurus series

MBOX600 (3U4A2)

MBOX600 (3U4A2) is a large loading capacity independent controller developed by NovaStar. It integrates a reliable industrial-grade PC with a sending card in a single unit, allowing for easy LED display ...

Läs mer

Benämning:

T6

Artikelnummer:

78-300-11

Kategori:

Taurus series

Benämning:

T3

Artikelnummer:

78-300-10

Kategori:

Taurus series
Kategori Video Processor
Benämning
Artikelnummer
Kategori

Benämning:

H20 Enhanced

Artikelnummer:

78-103-60

Kategori:

Video Processor

Benämning:

H15 Enhanced

Artikelnummer:

78-103-52

Kategori:

Video Processor

H15 Enhanced

The H15 Enhanced is NovaStar's newest generation of video wall splicer, featuring excellent image quality and designed especially for fine-pitch LED screens. The H15 can work as splicing processors ...

Läs mer

Benämning:

H15

Artikelnummer:

78-103-51

Kategori:

Video Processor

Benämning:

H9 Enhanced

Artikelnummer:

78-103-42

Kategori:

Video Processor

H9 Enhanced

The H9 is NovaStar's newest generation of video wall splicer, featuring excellent image quality and designed especially for fine-pitch LED screens. The H9 can work as splicing processors that integrate ...

Läs mer

Benämning:

H9

Artikelnummer:

78-103-41

Kategori:

Video Processor

Benämning:

H5

Artikelnummer:

78-103-31

Kategori:

Video Processor

Benämning:

H2

Artikelnummer:

78-103-21

Kategori:

Video Processor

Benämning:

NovaCLB

Artikelnummer:

78-420-19

Kategori:

Video Processor

Benämning:

C1

Artikelnummer:

78-420-18

Kategori:

Video Processor

Benämning:

N9

Artikelnummer:

78-410-12

Kategori:

Video Processor
Kategori X Expired product
Benämning
Artikelnummer
Kategori

Benämning:

Nova diverse

Artikelnummer:

78-100-00

Kategori:

X Expired product

Benämning:

TB8

Artikelnummer:

78-300-14

Kategori:

X Expired product

Benämning:

TB6

Artikelnummer:

78-300-13

Kategori:

X Expired product

Benämning:

TB3

Artikelnummer:

78-300-12

Kategori:

X Expired product

Benämning:

Light Sensor NS048C (UTGÅTT)

Artikelnummer:

78-420-89

Kategori:

X Expired product

Light Sensor NS048C

This light sensor has been DISCONTINUED It has been replaced by NS060-5A, which is a functionally equivalent product, but it has other physical external dimensions. Novastar NS048C-2 brightness sensor. ...

Läs mer