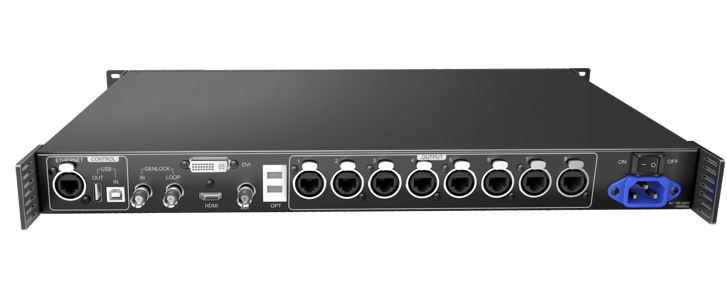 MCTRL R5
Product Description:
MCTRL R5, independent controller that supports rotation function.
With up to 3840×1080@60Hz loading capacity of a single unit, it can support any custom resolution within this range as required, thus meeting the on-site configuration requirements of extra-long or extra-large LED displays.
Working with the A8s or A10s Plus, the MCTRL R5 supports free screen configuration on SmartLCT, presenting full rotation of the display screen at any angle, adding diversity to images, and bringing different visual experience to users.
The MCTRL R5 is mainly applied to concert control centers, live events, security monitoring, Olympic Games and various sports centers.
Vill du veta mer?
Fyll i dina kontaktuppgifter i formuläret nedan så hör vi av oss så snart vi kan.


Input
1×6G-SDI, 1×dual link D-DVI, 1×HDMI 1.4
Output
8×Gigabit Ethernet, 2×fiber optic outputs